COSMETIC CONCERNS FOR THE BREASTS
SMALL BREASTS
Many women are worried that their breasts are smaller than what they should be. Often this is because the breasts have failed to develop adequately during puberty, or have lost volume post pregnancy and breast feeding.
There is also another category of women, who have reasonable size of the breasts, but would like to enhance them for their profession or to give them confidence. Models, film personalities, socialites and celebrities commonly have their breasts augmented.
Once puberty and adolescence is over, medicines cannot help in enhancing the growth of breasts. Only surgical correction can give a significant in one to three cup sizes or more.
Breast augmentation is done through either insertion of silicone implant or Fat grafting.
Read Breast augmentation or Fat grafting to learn more.
LARGE BREASTS
Often during development or pregnancy the breasts grow disproportionately large. The breasts could also grow very large due to obesity. The increase in the fat and gland tissue increases the weight of the breasts.
The increase in size or weight causes immeasurable suffering to women. They often complain of backache or neck ache, rash or sweating in the folds and between breasts. They are often embarrassed by their over-sized breasts and have difficulty in finding proper clothes to fit.
How can we help you?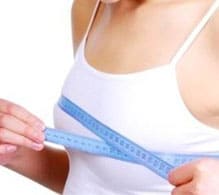 There is no medical treatment to reduce the size of the breasts. For a surgical option, it is wise to wait till the stage of breast development is over. The surgical options are either liposuction or surgical reduction. If the breasts have sagged due to their weight, then the procedure to correct this is called Reduction Mastopexy.
This procedure is one of the most popular procedures in western countries. In some countries, it is often offered free on their national health system or insurance. This is possible in those countries as they recognize the problems women go through due to large heavy breasts. Surveys published in peer reviewed journals have proved that breast reduction surgery is one of the most satisfying surgeries in cosmetic surgery.
To know more read about Breast Reduction Surgery.
SAGGING BREASTS
Sagging is a condition, which in medical terminology is called as Ptosis. This is said to happen when the nipple sinks below the normal position. Sometimes the whole breast sinks below its normal location. There are various grades to how much it has sagged and treatment can vary accordingly.
Causes and Telltales Signs
Although this condition is prominently associated with aging, it also happens after loss of weight and pregnancy. This condition mainly affects those who have normal to large sized breasts.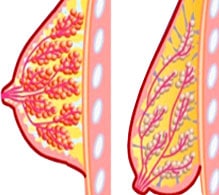 It is rarely seen in those who have small breasts. As we age, the ligaments holding the breasts become loose, the gravity acts on the tissues and make it sink. Also, when the breast volume becomes smaller after pregnancy or weight loss, the tissue envelope becomes large and gravity makes the breasts sink.
How we will help you?
Prevention is always better and consists of using a firm supportive bra throughout ones youth. Good moisturization of the skin and spa therapies using specially medicated oils can retain the elasticity of ligaments. We offer such therapies in Aesthetics Medispa. However, once the condition is established, only surgical breast lift can help in correcting or improving the position of the nipple of breast.
Please read about breast lift surgery for further information.
ASYMMETRIC BREASTS
During development of breast, the breasts might develop asymmetrically. The asymmetry might lie in the size, shape or position. This is often part of a condition or syndrome such as Poland syndrome or Tuberous breast deformity.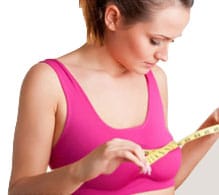 There could be several permutations and combinations of asymmetry. The asymmetry in size might involve one breast being larger, the other normal, or even smaller than normal. There could be associated asymmetries of position as well with one breast being lower than the other, a condition called ptosis. Rarely the breasts are in a totally wrong position such as arm pit laterally.
How we will help you?
Recognizing the exact pathology is important in rectifying the problem. This is done with close consultation with the patient. A large breast can be reduced; a small breast can be made larger with breast augmentation. Sometimes both have to be done in the same patient. A sagged large breast has to be lifted with a reduction mastopexy and made to match the other normal breast. This requires considerable skill and you need to consult a specialist with considerable expertise. Here at Aesthetics medispa, we offer this expertise.
Read more about Asymmetry Correction.
MALE BREAST
Men too have breasts, which usually remain rudimentary. Occasionally they undergo development during puberty. In those in whom these breasts develop, but resolve on their own is called as physiological gynaecomastia. In the others, in whom the breasts do not resolve spontaneously and there is no known cause for breast development is called as idiopathic gynaecomastia.
Introduction to male breast surgery
Once the breast tissue develops and the development phase is over, it does not grow or reduce much. It might grow in size with increase in weight and the main component of such an increase is fat.
There is no proven drug that will reduce a well-developed gynaecomastia. Tamoxifen 20mg daily has been shown to work in the developmental phase and arrest the development of gynaecomastia. However, once it is developed, male breast reduction surgery is the only answer.
How we will help you?
Traditionally, the breast tissue has been removed by a cut under the areola. This technique often had the risks of saucerisation and nipple inversion. Scar hypertrophy or visible scar were other problems. The newer technique of liposuction was developed combined with excision of residual fibrous gland. With liposuction, the fat in the gland is removed. If the fibrous element is not much, then liposuction alone is sufficient to give a very good result.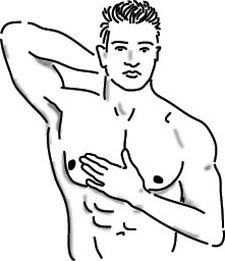 If more of fibrous glandular tissue is present under the nipple,then gland removal through a very small incision under the nipple helps to remove it completely. The technique of liposuction usually does not need placement of drains and the risk of nipple inversion or saucerisation is low. The latest development that is also offered by Aesthetics Medispa, is Ultrasonic Liposuction with VASER. The ultrasonic emulsification helps to remove the fat more thoroughly and also helps in skin contraction. If you pay particular attention to muscle borders and edges, and liposuction there more thoroughly, with etching, we can deliver a very defined look. Some men are interested in having the suctioned fat injected in to the pectorals muscle.This is called 4D liposuction. It can make you look muscular and enhanced.
The results after this procedure are very satisfying. It is possible to give approximately ninety five to ninety nine percent clearance of male breasts. It also helps treating puffy nipples. No marks are left behind.It is almost as if you never had this problem before. Read more on gynaecomastia correction.