RESTORE YOUR SKIN'S NATURAL GLOW AND GET A FAIRER SKIN TONE WITH AESTHETICS MEDISPA
Flawless and glowing skin is one of the most beautiful physical features for any human being. Everyone wants their skin to look youthful and fair. But we live in a hot, tropical country which is exposed to a high amount of sunlight throughout the year. The sunlight affects the texture and colour of the skin, add to it the quality of water we use during baths and pollution. All of these factors darken the skin and take away its natural glow. 
At Aesthetics Medispa, we have studied all of the factors and created customized Skin Glow and Skin Whitening treatments for our clients. Our mission with skincare treatments is to restore the youthful, unblemished skin and reenergize it for long-lasting results. 
Our treatments combine medical science and salon techniques for stunning results. We promise you a delightful experience that will transform your skin completely.
Why are beauty salon treatments not enough?
If you are blessed with impeccably smooth and gorgeous skin, then surely beauty salon treatments will do the trick for you!
But, let's face the fact! Only few of us are lucky enough to have smooth and radiant skin. We all need something that penetrates deep into our skin to target pimples, scars and marks.
You should consider doing cosmetology treatments to treat your skin inside out.
Glycolic acid is the gold standard in chemical peel formulations. Its exfoliation properties work wonders on the patient's skin. At Aesthetics Medispa, Glycolic Peel is our go-to for its proven ability to transform the health and appearance of a multitude of skin types.
The peel consists of Glycolic acid, Trichloroacetic acid and Phenolic acids as peeling agents used in various concentrations. The higher the percentage of the acids, the deeper the peel will be. Glycolic acid is a mild peel, which usually does not actually cause or result in a visible peeling of the skin. It is hence safe to use on darker skin types. When applied to the skin, the acid stings a little and eventually the skin look red to white in colour depending upon the depth of the peel.
If there is one virtually downtime-free skin treatment that peels off the dead skin cells microscopically, then it has to be glycolic acid chemical peel treatment. Also known as lightening peels, this treatment is ideal for women who suffer from excess sebum.
Glycolic Peel rejuvenates your skin while reducing pigmentation problems and skin tanning. IT simultaneously produces new collagen and elastin. We guarantee that you will achieve a skin that starts looking smoother, compact, lighter and even-toned in complexion post this magical alpha-hydroxyl acid procedure.
This is an effective treatment to remove superficial pigmentation blemishes from the skin. It has a firming effect on the collagen of the skin and thus decreases fine wrinkles and fresh acne scars.
You will need four to six sittings to be done every half of the month for a good result in advanced cases. Maintenance peels may be done every two months. These peels should only be done by a specialist who is trained in Aesthetics. If administered wrongly, they can even burn the skin and damage it significantly. Hence we recommend utmost care during application The downtime is usually only a day or two. Adequate sun protection and moisturization are necessary during and after the peeling process.
Laser Peel also referred to as Laser Skin Resurfacing is an advanced skin peel treatment that can give you a flawless skin. Laser Peel removes the old skin layer by layer with precision. The new skin cells that form during healing give the skin a tighter, younger-looking surface.
LASER is a special type of light whose wavelength and amplitude is controlled to deliver therapeutic benefits. Scientists and engineers process the energy of light to be able to penetrate various depths of the skin and deliver heat. This heat, produced during LASER treatment, is absorbed by target tissue and imparts the therapeutic benefits often called as Photofacial.
There are two types of LASERS used in facial rejuvenation. Ablative and non-ablative. Ablative lasers are CO2 and Erbium YAG which vaporise tissue. Vaporising tissue initiates a healing process which lays down younger and healthy tissue, newer collagen and more elastic fibres.
Non-ablative lasers are of different wavelengths, which only deliver heat which is absorbed selectively by. The tissue is destroyed and cleared by our white cells. In the process, new younger and rejuvenated tissue are laid down. This works best to replace the old inelastic collagen ( protein fibre) with new elastic collagen, which improves the elasticity of the skin.
At Aesthetics Medispa, we have both types of lasers and qualified plastic surgeons to apply them. We can package a laser treatment which is the perfect combination of ablative and non-ablative LASERs to suit your skin problems and help you get rid of all blemishes.
The Milk Peel is a mild peel designed to help you achieve clearer, fairer and smoother skin. It is a simple and effective procedure performed at Aesthetics Medispa, Pune. Milk peel utilises lactic acid, a gentle alpha hydroxy acid (AHA) derived from milk and fruits.
Over time, our skin loses its original shine and becomes dull and dehydrated. Milk Peel clears all of the deficiencies to restore the radiance. It closes dilated pores, evens out the skin tone and softens fine line and wrinkles.
The milk peel has delivered amazing results to our clients who have shown signs of pigmentation, blemishes and dark spots on their skin.
Skin-lightening is a much-needed cosmetic treatment for women of all age groups. The side-effects of pollution and exposure to harsh weather make it necessary to undergo this treatment to restore their fair skin.
Lightening peels at Aesthetics Medispa, Pune are effective on all skin types – normal, oily or dry and all skin tones – fair to dark. The lightening peels consist of Kojic acid, Phytic acids, Glycolic acids etc. They also have natural fruit elements in them. All of these elements assist in restoring the natural radiance of the skin and treat fine lines as well.
Lactic Acid Peels are one of the most nature-based cosmetology offerings at Aesthetics Medispa. Lactic acid peels are created from milk and contain anti-ageing ingredients called alpha-hydroxy acids (AHAs).
Lactic Acid Peel is a mild peel which can treat a dull, uneven skin tone effectively. It exfoliates the skin, moisturises it and evens out the skin tone. Lactic peel renews the skin's health and the effects are impressive.
This is one of the best peels for patients prone to acne or for someone who has regular acne breakouts. The chemical properties of Modified Jessner's Peel consist of lactic acid, salicylic acid, lilac leaf cell culture extract etc. all of which are potent fighters against acne and blemishes.
Modified Jessner's Peel is a medium-depth peeling agent that needs to be left in the patient's skin for 6-8 hours for wondrous effects. It reduces dark spots, patches, smoothens fine lines and wrinkles and reduces the intensity of existing scars. Modified Jessner's Peel evens out the skin tone and helps in regrowing a healthier layer of skin.
Glutathione Peel is the latest addition to skincare trends. People from all over the world are going gaga over this cosmetic treatment. At Aesthetics Medispa, we always like to keep up with the times and hence we have added this new peel to our skin whitening and lightning docket.
Glutathione Peel consists of glutathione which is a potent chemical that is commonly used as a brightener. Its healing and brightening properties have made it popular. Apart from Glutathione, the other ingredients are trichloroacetic acid (TCA), salicylic acid, retinoic acid, kojic acid, phenol and vitamin C. All of these ingredients have anti-oxidant properties which suggest that they are effective anti-ageing solutions as well.
The benefits of Glutathione peel include an improved, brighter and whiter skin tone, less fine lines and wrinkles and reduction in acne outbursts.
Cosmelan is a depigmenting method that has an intensive corrective action on skin hyperpigmentations. It also regulates the overproduction of melanin thus effectively inhibiting and controlling the appearance of new dark spots. Cosmelan's dual corrective and controlling action makes it a favourite for our Cosmetologists at Aesthetics Medispa.,
Cosmelan depigmentation treatment directly affects the process of melanin formation. Since it attacks the root cause it can solve the problem of hyperpigmentation as well as melasma. 
It is a highly effective solution for all your pigmentation problems. It is safe on all skin types. The results are rapid and easily visible. It rejuvenates your skin and restores its original youthful glow. It is beneficial in case you suffer from both hyperpigmentations as well as acne. 
Cosmelan can be used on all skin types, in both men and women.
What are the precautions you should take during the Cosmelan treatment?
If you are on Cosmelan Treatment, it is important to avoid sun exposure for a long duration, as well as use a good SPF sunscreen to protect the skin.
For sustained and long term results, Cosmelan home care treatment is recommended.
When do we recommend Cosmelan treatment?
Acne and freckles, melasma, inflammatory hyper-pigmentation and most successfully in pigmentation due to excessive sun exposure.
Are there any unwanted effects / risks of the cosmelan treatment?
Mild to severe peeling, redness, slight scabbing and sensitivity to the sun is normal in the first few days after the treatment. Some patients experience dryness, tightness, soreness and itching for up to two weeks after the initial treatment. Patients suffering from recurrent herpes infections may have a recurrence of cold sores.
What can you expect from the cosmelan treatment?
You can expect a significant drying and peeling of the skin over the next three to seven days after which, a noticeable improvement of the skin is observed. A reduction of brown patches is detected and the skin appears luminous, revived, fresh and smooth. This peeling phase may extend to up to 4-6 weeks.
During the peeling phase, it is important to moisturize the skin, and cover with sunscreen, to minimise the irritation, redness and soreness.
Before and Afters Results
* Disclaimer: Results May Differ From Person to Person. No individual result should be seen as typical
Start here, by making an appointment with Dr. Ashish
Dr. Ashish Davalbhakta (Chief Aesthetics Plastic Surgeon) is available from Mon- Sat for a virtual video consultation or an in-clinic consultation.
If  you have an emergency you can call the clinic at any one of these phone numbers: 9607938924, 9607938925, 9607938922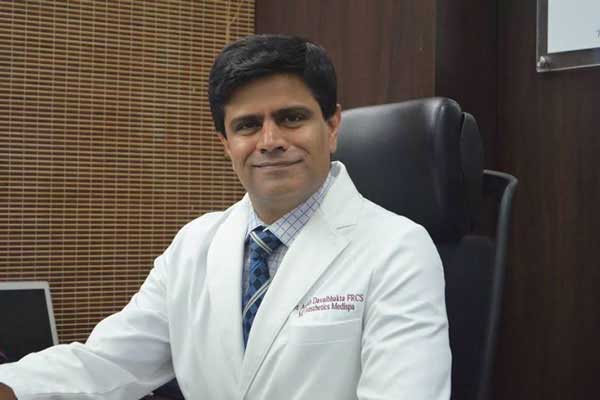 Your consultation includes:
MEET DR. ASHISH DAVALBHAKTA
BOARD CERTIFIED AND INTERNATIONALLY TRAINED PLASTIC SURGEON WITH 25+ YEARS OF EXPERIENCE.
We have transformed the looks of thousands of men and women by providing them with natural looking long-lasting procedure results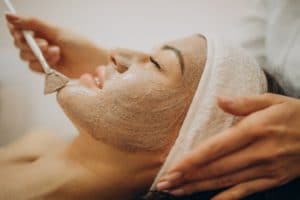 Face
Cosmetic surgery and wellness treatments At Aesthetics Medispa Request Appointment Medicated Facials OVERVIEW Medicated facials or medi-facials are not your regular salon treatments. These medicated
Read More »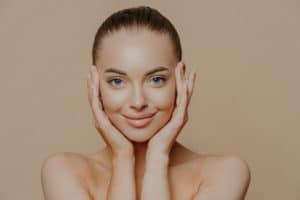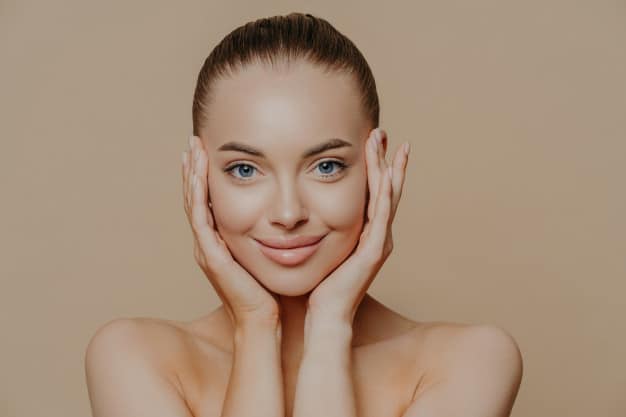 Face
Cosmetic surgery and wellness treatments At Aesthetics Medispa Request Appointment Microblading / Semi Permanent makeup OVERVIEW Semi-Permanent makeup, also known as Microblading or Micropigmentation, is
Read More »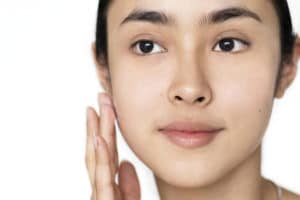 Face
Cosmetic surgery and wellness treatments At Aesthetics Medispa Request Appointment Detanning OVERVIEW Detan skin with variety of treatments at advanced aesthetics and get brighter appearance.
Read More »