GET SCULPTED BOSOM UNLIKE ANY OTHER
At Advanced Aesthetics, Pune
Why do women opt for breast reduction?
Women with large, heavy breasts may experience several health concerns related to this problem including back and neck pain, breast pain, and rashes under the breast. The added weight of large breasts may exacerbate the symptoms of women with arthritis or spinal problems. Some women are bothered by the psychological embarrassment of large breasts, finding it uncomfortable to engage in physical activity or experiencing difficulty in finding clothes that fit.
In the long term, large breasts can lead to increased sagging (ptosis), and as a result of which a combination of large breasts and ptosis is present in many women. Women who are very self-conscious of their large breasts, tend to develop a slouch in their posture, droop in their shoulders, and chronic backache. Bra straps tend to dig into their shoulders causing deep indentation.
If you have any of these symptoms, breast reduction surgery may be right for you. It can make a dramatic change in your appearance and your outlook. It is recognized worldwide that women who have had breast reduction are some of the most satisfied and grateful patients. They find new enjoyment in sports, exercise, dance, and even walking!
Get sculpted bosom unlike any other!
Are you concerned with the size of your breasts? Answer some simple questions to help us understand your concerns, or breast related issues. This will help us identify the conditions that need to be corrected at the time of consultation.
What is involved in the breast reduction recovery process?
Initial healing will include swelling and discomfort at the incision sites. A support bra will be recommended for continuous wear for the first six weeks. The bruising will take up to three weeks to disappear. The swelling may take up to six weeks to disappear. The breast shape goes on improving for up to six months.
A return to light activity is possible as soon as you feel ready, usually within ten days following surgery. All stitches are usually absorbable and will not need removal. You will be advised not to exercise for six weeks after surgery, and after that period, you must wear a sports bra while exercising.
Healing will continue for several weeks as swelling dissipates and breast shape and position settle. Scars are initially red and visible for the first six months but rapidly become soft, and supple, and fade after that.
What should I expect in the post-operative period?
Small thin tubes are usually placed after major reductions to drain out any accumulated blood. These drains take about two to five days to stop draining, and are removed once they have stopped draining. You may be discharged after drains have been removed.
The post-operative discomfort can be managed quite satisfactorily by regular medication with oral pain killers. You will find that you can discontinue these a week after surgery.
How breast reduction is performed?
Breast reduction is usually done under general anesthesia. There are many ways to do breast reduction. The procedure essentially consists of excising a wedge of the breast gland with the overlying skin. While doing so the nipple is preserved on a bridge of tissue, which provides it with blood supply, and then translocated to a new higher position. The breast and skin are closed, giving it a smaller and much nicer shape.
The final scar will be around the areola and extend vertically down to the inframammary fold in the vertical scar technique of breast reduction. There will be an additional transverse scar in the inframammary fold if the keyhole pattern (inferior pedicle technique) is used.
Our surgeon at Aesthetics Medispa will be able to guide you about the most suitable technique for you.
What procedures can be performed in conjunction with Breast Reduction?
Are there any risks and complications involved in the breast reduction surgery?
Breast reduction is a refined surgical procedure and is done quite routinely. Like any surgical procedure there are potential risks and complications that our surgeon at Aesthetics Medispa will explain in detail.
Some of the potential risks include:
Accumulation of blood (hematoma), infection and poor healing at the site of suturing.
Decreased sensation at the nipple.
Decreased blood supply at the nipple, which may lead to partial or total necrosis of the nipple. This may need secondary reconstruction. This is very rare. The risk is increased in smokers and diabetics. Hence, women are advised to stop smoking at least two weeks prior to surgery.
The ability to breastfeed after reduction is unpredictable. It depends on the extent of reduction and the type of technique used. This is best discussed with our surgeon at Aesthetics Medispa.
The incidence of these risks ranges from five to ten percent, and our surgeon will explain the treatment if they occur.
Big breasts are not a disease. Many in society prefer having large breasts. But overly large breasts can lead to many problems and may need surgical intervention to make day-to-day life easier.
One good example of this is the story of the 42-year-old woman who came to Advanced Aesthetics for help. She had huge and heavy breasts that caused her many difficulties. She suffered from backache caused by a lack of proper posture and constant stooping. She also suffered from skin discoloration and recurrent fungal infection. Her bulky and saggy breasts restricted her exercise and her movements. She had trouble sleeping on her back and her sides. She was unable to find the right clothes and bras for herself. The straps of the bras she wore would dig into her shoulders, causing discomfort. All these problems and social restrictions led to a loss of confidence. She suffered for almost 10 years and her family would not support the surgery.
While looking for the right surgeon to help her, she came across Dr. Ashish's video on YouTube. She booked an appointment for a breast reduction and had a thorough consultation during which she understood the complexity of her case. She underwent a blood test before the surgery and was found to be anemic. She had to build her iron levels and make up for other micronutrient deficiencies. It took 2 months of preparation before she was fit for the surgery.
Thanks to Dr. Ashish's detailed preparation and planning, the execution of the surgery went well. She did not have any complications during her healing and recovery period after the surgery.
The breast reduction surgery was a life-changing experience for her. She shared positive and good feedback with Dr. Ashish.
Cosmetic surgery is just not for being beautiful, but also to correct disproportions and transform your life with no age bar.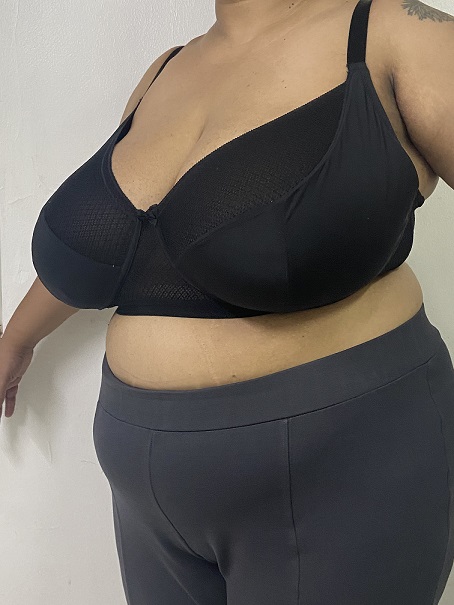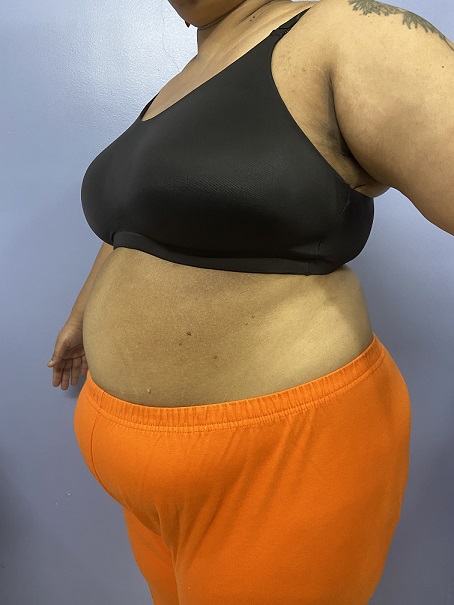 Read the story of Shruti Shintre, who had successful breast reduction surgery performed by Dr. Ashish Davalbhakta at Advanced Aesthetics.
The Interaction: 
My experience with Advanced Aesthetics is truly an exceptional one. I was referred to, and I am glad that I took the consultation with Dr. Ashish Davalbhakta. Right from the appointment to the initial consultation the bar was set high.
The entire Baner as well as Model Colony team of Advanced Aesthetics is approachable and soft-spoken, professional and at the same time caring towards the patient's requirements.
The Pre-Op:
At the onset I was anxious but after meeting Dr. Ashish my worries eased. He took the time to understand my issues and concerns and positively affirmed the need for Bilateral Breast Reduction surgery.
Dr. Ashish is a rare combination of expertise & being a soft-spoken personality at the same time.
He was upfront and explained in detail, all the aspects (need, process, pros & cons) of the procedure.
The pre-op process involved my health assessment. I was advised of medication & lifestyle changes.
This detailed approach helped me a lot in terms of my understanding and orientation about the procedure and the prerequisites while raising my confidence and readiness for surgery and post-op care.
The Op:
One doesn't get to know while you are being operated. Having done a 10-hour surgery the other day, I can only imagine and appreciate the efforts of Dr. Ashish, Dr. Madhuri, Dr. Mugdha, and the Advanced Aesthetics Team, when I was next on their OT schedule. It started around 0930 and took about 6 hours before I was taken to the Recovery Room. A successful Op as expected!
The Post-Op:
After the surgery, Dr. Ashish, Dr. Madhuri & Dr. Mugdha were always present, making periodic checks every day, in-person, to monitor and ensure that the post-op healing process is progressing as planned. Conversation with them always felt one step closer to full recovery, a comforting experience.
Necessary guidance and support, an essential ingredient to the mix, was extended to me and to my family throughout the timeline.
Hands-down appreciation for the entire team of Advanced Aesthetics, cheers! It's an amazing team!
During the entire post-op dressing sessions, the Model Colony Team – Pratibha Madam, Tejashree & Namarata, Vaibhavi & Vaishali sister, all of them were effective and efficient in their work. Vaishali sister is a pro at her work.
The best part is they extend the same courtesy to every patient, not being selective.
The warmth & care is genuine and leaves a distinct positive mark not only on the patient but also on his/her family.
Another thing which deserves a mention is the hygiene & cleanliness of the place. Super! Always clean, pleasant vibes & neatly organized.
It's been 2 months since the surgery. I am now in a happy space and more than satisfied with the results.
Once again, I would like to thank Dr. Ashish & his entire team for their excellent work and exceptional medical care, and personal attention.
Highly Recommended!
Breast reduction - Before and Afters Results
* Disclaimer: Results May Differ From Person to Person. No individual result should be seen as typical
Start here, by making an appointment with Dr. Ashish
Dr. Ashish Davalbhakta (Chief Aesthetics Plastic Surgeon) is available from Mon- Sat for a virtual video consultation or an in-clinic consultation.
If  you have an emergency you can call the clinic at any one of these phone numbers: 9607938924, 9607938925, 9607938922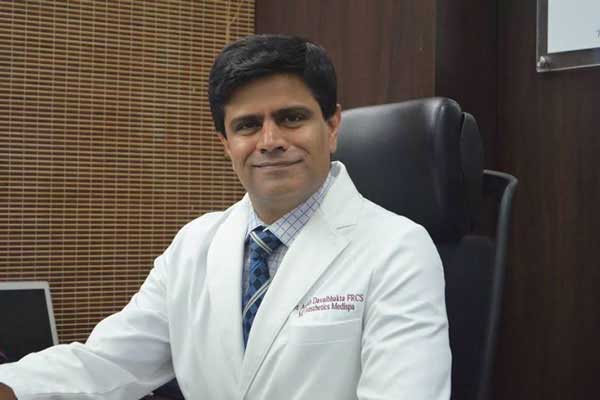 Your consultation includes:
MEET DR. ASHISH DAVALBHAKTA
BOARD CERTIFIED AND INTERNATIONALLY TRAINED PLASTIC SURGEON WITH 25+ YEARS OF EXPERIENCE.
RELATED PROCEDURES AT ADVANCED AESTHETICS

We have transformed the looks of thousands of men and women by providing them with natural looking long-lasting procedure results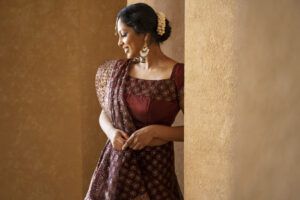 Uncategorized
Explore personalized beauty treatments for a radiant wedding glow at Dr. Ashish Dhavalbhakta's clinic. Every bride-to-be dreams of walking down the aisle with confidence and
Read More »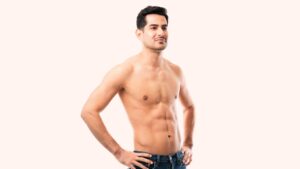 Body treatments
Picture this: You're at the gym, and you notice a guy who, despite working up a sweat, seems to shy away from revealing his chest.
Read More »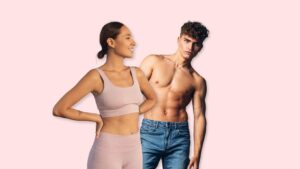 Body treatments
Picture this: you're on a beach, basking in the sun, and as you stroll along the shore, all eyes are on you and your perfectly
Read More »