Women with large and heavy breasts experience several health concerns due to the size of their breasts such as back and neck pain, breast pain and even rashes under the breast. The added weight of large breasts may exacerbate the symptoms for women with arthritis or spinal problems. Some women are bothered by the psychological embarrassment of large breasts, finding it uncomfortable to engage in physical activity or experiencing difficulty in finding clothes that fit.
Thankfully medical science has a cure for this condition and it is called breast reduction surgery.
As the Chief Aesthetics Surgeon at Aesthetics Medispa, Pune, many of my patients approach me for breast reduction surgery. It is one of the most common procedures in the field of plastic surgery. It is safe and relieves the patient from recurring pain and mental trauma.
I am Dr. Ashish Davalbhakta, and in this article, I would like to share some basic awareness about breast reduction surgery, experiences with my patients and my approach to the surgery.
What Is Breast Reduction Surgery?
A breast reduction surgery often called reduction mammaplasty is a surgical procedure that involves the removal of excess skin, fat, and glandular tissue from the patient's breasts. This surgery can reduce the size of one's breasts considerably.
Why Do Patients Opt For Reduction Mammaplasty?
Breasts are considered a mark of beauty and femininity. Hence, many people fail to understand why a woman would undergo breast reduction surgery. But there are many reasons why women choose to get a reduction mammaplasty. Some of them are:
Excessively large breasts – Having excessively large breasts falls under the medical condition of macromastia. This condition causes a lot of physical and mental distress for the patient. It also restricts their physical activities.
Disproportionate or asymmetrical breasts – Sometimes a woman's breast size is not proportionate to the rest of her body or her breasts are asymmetrical in shape.
Mental stress – Many women face mental health issues due to their large breasts. This affects their self-confidence and self-esteem.
A woman can have other unique reasons to undergo this procedure. As a cosmetic surgeon, I respect my patient's logic and independent thought process. According to our philosophy at Aesthetics Medispa, we believe that whether to opt for or not to opt for this surgery is a completely personal choice made by a well-informed woman.
Who Is An Ideal Candidate For This Surgery?
A healthy woman who is facing physical or mental issues due to her large breasts.
A woman whose breasts have fully developed.
A non-smoker.
A woman who is not currently breastfeeding or pregnant
A woman who is non-diabetic.
A woman who has no cardiac issues.
Please note that having diabetes or cardiac conditions does not make you entirely ineligible for the surgery. If your diabetes is under control and your cardiac issues are also under control, then you can still be an ideal candidate for this surgery.
If you fit into the above conditions then you are an ideal candidate for breast reduction surgery.
Who Is The Right Surgeon For A Reduction Mammaplasty?
A reduction in mammaplasty does not only affect the look or feel of your breasts but also your overall physical wellbeing. Therefore, choose your surgeon wisely.
Following are some pointers that might help you in your decision:
First of all, as per the Indian Medical Association, the qualifications of the doctor should include an M.Ch in Plastic Surgery to perform a breast reduction surgery.
Experience is another factor that must be taken into consideration when choosing a doctor. The higher the number of years of experience, the easier it is to trust the surgeon.
Check what technology is available with the doctor and how well equipped his clinic is. If the doctor is using the latest technology then probably the results will be better and natural-looking.
Review the testimonials of past patients. Most patients post their reviews on social media pages or Google or even the website of the doctor. Go through them to understand the quality of his/her work and what the ultimate results look like.
The cost of breast reduction surgery in India could also play a major role in choosing the right doctor for you. Depending on the amount of money you are ready to spend, choose a surgeon who falls in your budget range.
A vital element that is often not listed, is your personal equation with the doctor. It is very important that you feel comfortable with the surgeon and trust his judgement and course of action. This comfort level is intangible and cannot be measured, but it does affect your choice and your ultimate happiness.
What To Ask Your Doctor During Your Consultation?
A one on one consultation with your doctor is the foundation for breast reduction surgery. It will help you as well as the plastic surgeon to figure out the plan of action and understand each other.
During your consultation, you can discuss what you expect from the surgery and how the doctor is going to help you achieve it. A thorough meeting before the surgery reduces the chances of disappointment post-surgery since you and the doctor are both on the same page with the objectives.
Following are a few questions you can ask during the consultation:
Am I a fit candidate for this surgery?
What should I expect from this surgery?
What precautions should I take in the days leading up to the surgery?
What will be my average recovery time?
What care should I take to get optimum results from this surgery?
What steps will I need to take to maintain my breasts after the surgery?
Are there any risks and safety concerns that I need to be aware of?
What is the cost of breast reduction surgery?
Will this surgery affect my ability to breastfeed in the future?
Will the shape of the breasts change after pregnancy?
The doctor will take pictures and measurements of your breasts during the consultation. This is necessary and assists in the decisions to be made about the surgery and how to execute it.
What Happens Before The Surgery?
The doctor will ask you to take some routine blood tests in the week before the surgery. He may ask you to undergo a mammogram to establish a baseline for future reference. He may also ask you to discontinue some of your regular medicines to avoid any conflicts with the surgery. If you are a smoker then you will have to give up smoking in the few weeks leading up to the procedure.
Make sure you arrive at the clinic or hospital in loose-fitting clothes (avoid over the head shirts/dresses) on the day of the surgery. Please bring someone with you because you will need help with getting home safely.
What Happens During The Surgery?
The anaesthetist will first administer anaesthesia on your body. This will put you to sleep and numbs the sensitivity of the body. This will reduce your pain and feeling of discomfort during the procedure.
Once the anaesthesia sets in, the surgeon will proceed and make an incision. The incision will be made either around the areola (around the nipple) in a circular form, or in a keyhole pattern beginning at the areola and ending around the crease of the breast, or lastly in T shape starting around the areola and encompassing the curve of the breast.
The procedure essentially consists of excising a wedge of breast gland with the overlying skin. While doing so the nipple is preserved on a bridge of tissue, which provides it with blood supply, and then translocated to a new higher position.
When the doctor is satisfied with the removal and repositioning he will proceed further and close the incision. Closing the incision involves sutures, surgical tape and skin adhesives.
The final scar will be around the areola and extend vertically down to the inframammary fold in the vertical scar technique of breast reduction. There will be an additional transverse scar in the inframammary fold if the keyhole pattern (inferior pedicle technique) is used.
Our surgeon at Aesthetics Medispa will be able to guide you about the most suitable technique for you.
What To Expect During Recovery?
Once you come out of the operating theatre, the doctor will keep you under observation in the recovery room for a minimum of 3 hours. Your vitals will be monitored to ensure that there are no complications arising from the surgery.
Your breasts will be covered in gauze dressing and bandages post-surgery. In case there is excess fluid or blood that needs to be drained out, a small tube will be placed for drainage. This tube is temporary. The doctor will remove it in one of the upcoming follow-up visits.
The doctor will give you specific instructions on how to take care of your breasts during the recovery time. He will also give you medication to manage the pain and prevent any infections. Once the dressings are removed he may ask you to wear compression garments or support garments on your breasts. Please follow all the instructions perfectly, without fail.
He will schedule regular follow up visits with you in the weeks following your surgery. Do not miss any visits and keep the doctor updated about your health.
A return to light activity is possible as soon as you feel ready, usually within ten days following surgery. All stitches are usually absorbable and will not need removing. You will be advised not to exercise for six weeks after surgery, and after that period, you must wear a sports bra while exercising.
Healing will continue for several weeks as swelling dissipates and breast shape and position settle. Scars are initially red and visible for the first six months but rapidly become soft, supple and fade after that. The results of your surgery will slowly become clear as your body heals and revitalises after the surgery.
What Are The Risks Associated With This Surgery?
As with every surgical procedure, there are certain risks associated with breast reduction too. Please note that the risks are low and rarely observed in patients. But as a patient, you need to be aware of the risks and safety issues that may arise due to this surgery.
Some of the possible breast reduction surgery risks are:
Accumulation of blood (hematoma), infection and poor healing at the site of suturing.
A decreased sensation at the nipple.
Decreased blood supply at the nipple, which may lead to partial or total necrosis of the nipple. This may need secondary reconstruction. This is very rare. The risk is increased in smokers and diabetics. Hence, women are advised to stop smoking at least two weeks prior to surgery.
The ability to breastfeed after reduction is unpredictable. It depends on the extent of reduction and type of technique used. This is best discussed with our surgeon at Aesthetics Medispa.
What Is The Cost Of Breast Reduction Surgery In India?
The cost of this surgery depends on various factors such as:
The location of the clinic
The experience and reputation of the doctor
Your unique case
Therefore, one cannot write down a ballpark figure for this surgery. The actual cost estimate will be given to you by your surgeon after your consultation.
Does Health Insurance Cover Reduction Mammaplasty?
Unfortunately, no health insurance covers this surgery because it is a cosmetic medical procedure.
Conclusion
I hope this blog has helped dispel the myths about breast reduction surgery. A breast reduction surgery is a safe procedure that can significantly improve the life of the patient. As a plastic surgeon in Pune and I have performed this procedure with amazing results on a lot of my patients. My patients have reported that after this surgery their physical, as well as mental well-being, has shown a positive improvement and they are leading a more active life!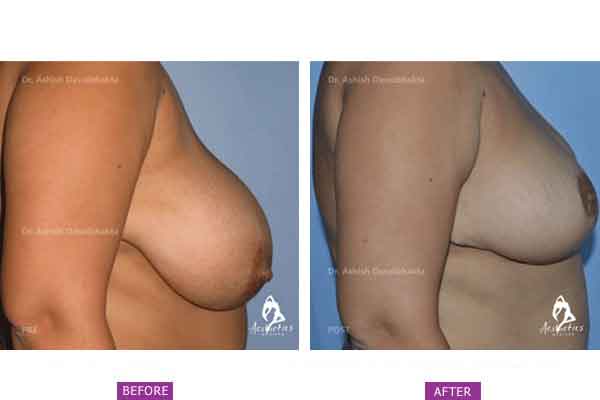 Dr.Ashish Davalbhakta is the Managing Director and Chief Aesthetic Plastic Surgeon at Aesthetics Medispa. He trained as a plastic surgeon to the highest level of qualifications and became board-certified in India. Having reached the top of his training in India, he went to the UK for further experience. He has done fellowships in Hand and Microsurgery, Breast aesthetic and reconstructive surgery and Cosmetic surgery in various centers including the world-renowned plastic surgery unit at Addenbrooke's Hospital Cambridge, St. Andrews Centre for Plastic Surgery, Chelmsford, The Royal Preston, Mt Vernon among others, acquiring his FRCS in 2000. He worked as a Consultant in the South Manchester University NHS Trust Hospital. He then gained experience in the US before returning back to India and started Aesthetics Medispa in 2009.