A PERFECT NOSE CAN CHANGE YOUR LIFE
At Advanced Aesthetics, Pune
Rhinoplasty (NOSE SURGERY)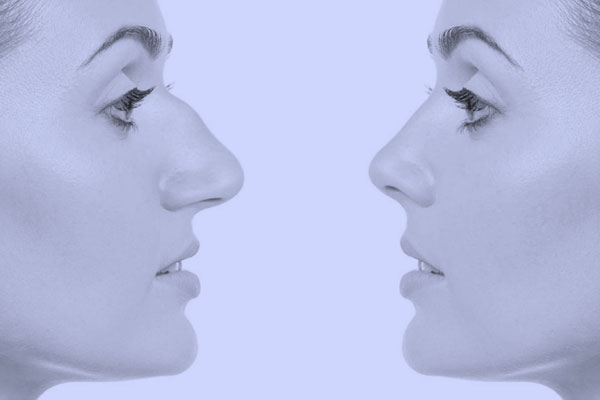 Let's ask Dr. Ashish Davalbhkata, Chief Plastic Surgeon and Managing Director at Aesthetics Medispa. Dr. Ashish is board certified, internationally trained from the UK and US and has more than 20 years of experience.
Is rhinoplasty for you?
Answer a few simple questions and find out if you can benefit from Rhinoplasty.
Rhinoplasty (commonly known as nose job or nose surgery), is a plastic surgery procedure for correcting and reconstructing the nose, improving the functions of the nose and aesthetically enhancing the nose. There are various common problems of the nose that are correctable. Humped nose, saddle nose, depressed nose, flat nose, wide nose, wide tip, boxy tip, deviated, crooked nose, short nose or long nose, are various traits that one may have and would want to have it corrected. Anyone who has this kind of nose and wants to have it improved should consider Cosmetic Rhinoplasty. In general, adults with the above problems, of any age, who are in good health, and moderately fit are good candidates for nasal reshaping surgery. They should not have any life-threatening illnesses or medical conditions. Patients who smoke can have an increased risk of complications.
What are the costs incurred in Rhinoplasty(Nose Surgery)?
The costing would vary according to the components you are doing. A basic rhinoplasty would cost anywhere from Rs. 40,000/-. If you are adding all the components like augmentation, narrowing, deviation correction or a crooked nose correction, then it would go up to Rs. 1.2 lacs to 1.5 lacs as a ballpark figure. But, by and large around Rs. 80-85 thousand to Rs. 1 lac is the cost for rhinoplasty.
The variation in the cost of rhinoplasty is explained below.
Could you benefit from Aesthetic Rhinoplasty?
If you have a hump or a large nose, the hump can be removed, a saddle or a depressed nose can be built up or augmented, and a wide nose or a boxy nasal tip can be narrowed. Nasal tips can be refined. Deviated noses can be straightened. An aesthetic rhinoplasty can be combined with chin augmentation if you have a small chin or a cheek augmentation if your cheeks need to be built up for balance. A short nose can be made longer, a long nose can be made shorter. If you feel you have one of these noses, you would benefit by getting it improved by Cosmetic Rhinoplasty.
What is the procedure for Rhinoplasty?
The technique for Rhinoplasty would depend on what has to be achieved. The approach to Rhinoplasty could be through a traditional closed approach or the newer, open technique. In the closed technique, all incisions are taken inside the nostrils, hence nothing is visible outside. In the open technique, along with the incisions inside the nostril, a small incision is taken on the underside of the nose. This heals very well and is not visible in the long run, but it gives better exposure and enables a precise correction under vision. The subsequent steps of the surgery would depend on what is being done:
A depressed nose can be built up and made prominent with either artificial material called implants or autografts. Autografts could be cartilage from the septum of your nose, ears, or ribs. It could also be bone grafts from the skull or hips. Common implants used in Rhinoplasty are silicone or medpore. There are pros and cons to the use of every type of material and your aesthetic surgeon would be able to explain those.
A hump on the nose is partly due to the prominence of the bone and partly due to the prominence of the septum/ cartilage part of the nose. This has to be shaved off. Once it is removed, the roof of the nose is open and has to be closed with infracture of the nasal bones.
If the tip of your nose is bulbous or like a button, this can be refined. The cartilages which form the part of the tip of the nose have to be stitched tightly and reshaped to give a more proportionate and sleek tip.
This is a common problem and can be corrected by moving the nasal bones inwards by infrastructure. Often the nasal tip has to be narrowed as well. if the nasal base is flared or broad, this can be corrected as well.
Often the nose becomes deviated during development or becomes crooked due to injury. This can be straightened by removing the deviated part of the septum or putting straightening stitches and cartilage supports.
Rhinoplasty Before-After Results:
What kind of anesthesia is required?
Usually the procedure would be done under a general anesthetic for improved comfort, yet it is possible to do it under local anesthetic as well.
How Is The Recovery After Rhinoplasty Surgery?
Dr. Ashish Davalbhkata discusses what to expect after rhinoplasty surgery in detail in this blog.
What to expect after the Rhinoplasty surgery?
After the nasal surgery, there may be a trickle of fluid or blood from the nostrils for 24 hours and to catch this, a nasal pad will be placed under the nostrils. The nostrils might be blocked by a pack for 24 hours to stop this drip. Often, the surgical trauma may cause swelling of the lining of the nose and give a feeling of the nose being bunged up. This feeling may last for up to 3 weeks. There might be bruising and swelling after surgery that should subside in 3-6 weeks.
If you have had infractures, then you may have a splint on the nasal bridge, which will be removed in 7 days. Immediately after surgery, due to the swelling, you might experience some difficulty in opening your eyes. This rapidly improves after the next day. Wounds normally heal in 7 days to 2 weeks. Your plastic surgeon at Aesthetics Medispa and the assisting staff will fully attend to your comfort and safety. The swelling around the tip of the nose tends to take the longest to resolve and may last up to 3 months.
What about the Rhinoplasty results and the outlook ?

Your final result will appear over time, generally within several weeks. It may take up to a year for incision lines to fully refine. Most of the swelling resolves by three months. The results are usually dramatic and noticeable straight after the dressing is removed, but further refinement in the nasal features happens over three months. What matters more is that the appearance of your face matches the way you feel inside – youthful, vital, and alert.
Rhinoplasty Before-After Results:
What about the progress and the healing period?
Incisions usually heal in 7 days to two weeks. Stitches are removed around this time. You will be able to return to work and light normal activity sometime between 2-4 weeks. You will then be asked to use a moisturizer and massage the face and scars. You will be able to return to light work and normal activity at this time and resume wearing contact lenses. Healing will continue for several weeks. Diligent sun protection is a must for best results. Nasal decongestants might help with nasal congestion.
What procedures can be performed in conjunction with Rhinoplasty?
What are the risks and complications associated with Rhinoplasty surgery?
Although there are very few risks associated with this procedure, a possible general risk includes bleeding and collection of blood under the skin (hematoma). Bleeding is rare but may have to be stopped. Any surgery carries risks associated with anesthesia. There are very few risks if the procedure is done under local anesthesia. These risks will be fully discussed with you prior to your consent for surgery. General risks like delayed wound healing and infections are common to many other operations and can be treated satisfactorily. Any surgery on the nose has a ten percent risk of residual deformity, for which further revision surgery might be required.
If you're considering nose reshaping, but are not sure what will be involved, request a consultation with Dr. Ashish. Dr. Ashish will discuss the options available to you for nose reshaping, likely outcomes, any risks or potential complications, and recommend a course of treatment with the associated cost.
Dr. Ashish Davalbhakta Solves Breathing Difficulty For Patient With Septorhinoplasty Surgery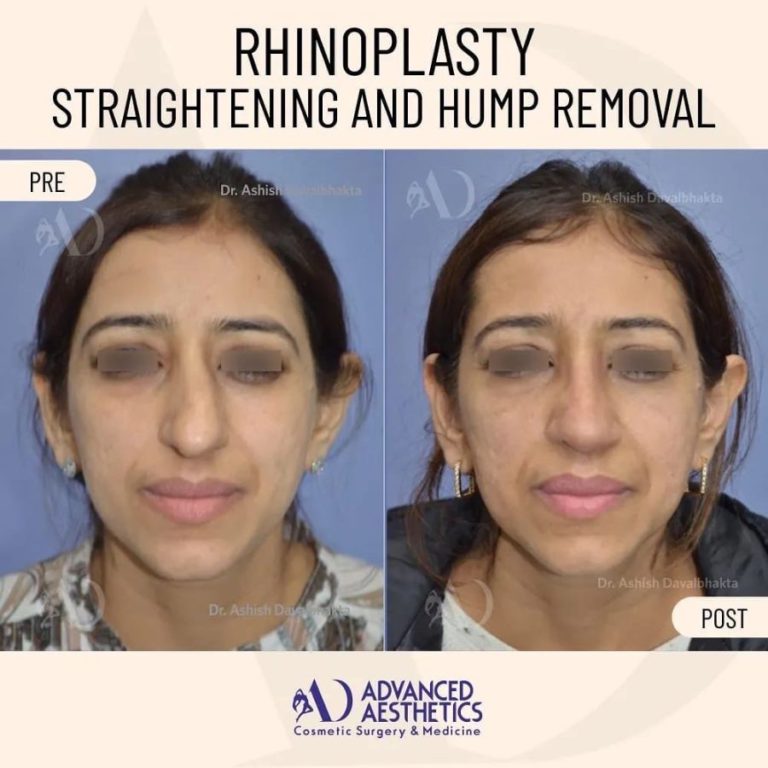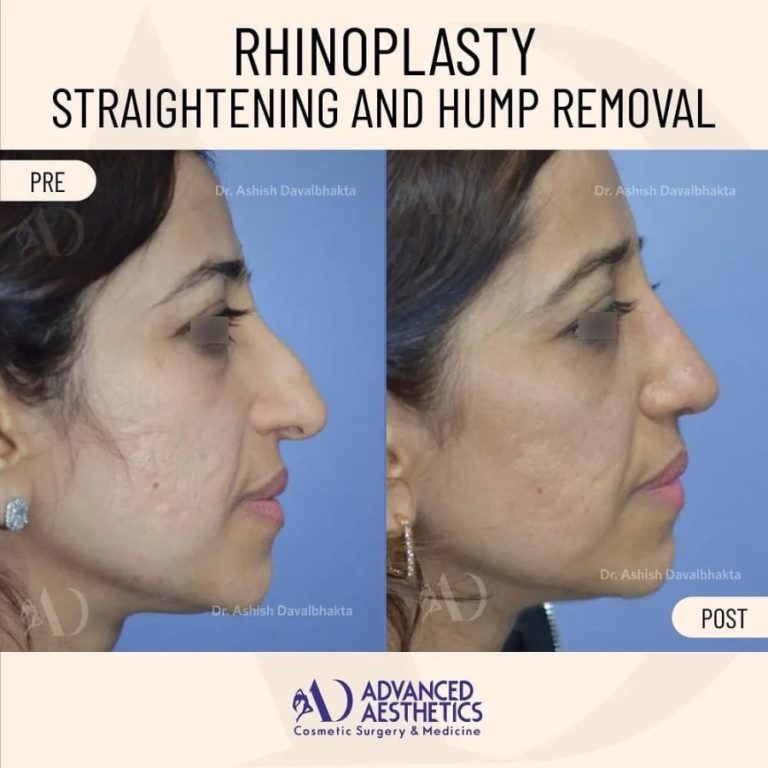 The problem: The patient had a severely deviated nose. This led to breathing problems, a nose infection, and a blocked nose.
The solution: Septorhinoplasty surgery performed by Dr. Ashish Davalbhakta at Advanced Aesthetics, Pune.
The result: Significant improvement in the patient's breathing and overall nasal function.
The story:
The patient came to Advanced Aesthetics, Pune, with a severely deviated nose. She had been struggling with breathing difficulties for many years. She also suffered from a nose infection and a blocked nose. Dr. Ashish Davalbhakta suggested a septorhinoplasty surgery to correct her deviated nose. He was able to correct her septum, remove the hump on her nose, and perform dorsal rotation and tip elevation to improve her breathing and clear up her sinuses. 
The patient was delighted with the results of her nose surgery, which are permanent and natural-looking. She is now able to breathe more easily and is no longer plagued by sinus problems.
A Patient's Journey To A Beautiful Nose
This is the story of a satisfied patient of Dr. Ashish Davalbhakta who underwent rhinoplasty surgery at Advanced Aesthetics:
"From the beginning as I had decided to do rhinoplasty, I ran through internet and found out Advanced Aesthetics. So went for a consultancy. Then the way Dr. Ashish sir told me how the procedure is going to happen, and how's your nose going to look after surgery, he told me everything I should have known and the staff was very friendly. So I was very happy and decided to get my nose job done. After the surgery, I don't feel like I'm in hospital because everyone took care of me. After the splint removal, I was happy with my nose and I am satisfied. I would like to thank you Dr. Ashish sir and all of the staff from Advanced Aesthetics."
27 year old Gheni Abhadhab Jlaiwi of Iraq was suffering from Xeroderma Pigmentosum which makes the person susceptible to skin cancers, and lost his nose to this rare skin condition, and with it, lost his social life with the embarrassment of not having a nose. Doctors in Iraq had lost hopes and then Gheni decided to come to India. For the complex procedure involved in Gheni's nose reconstruction, Dr. Ashish Davalbhakta selected a modification of the age-old Indian technique for nose reconstruction, called Indian Forehead Rhinoplasty.
Flaunting his new nose, Gheni had also found a new smile. He said, " I do not use an adhesive tape anymore. I am able to once again socialize and my thoughts no more turn towards suicide. I am extremely grateful to Dr. Davalbhakta who has looked after me during my multiple stages of nasal reconstruction."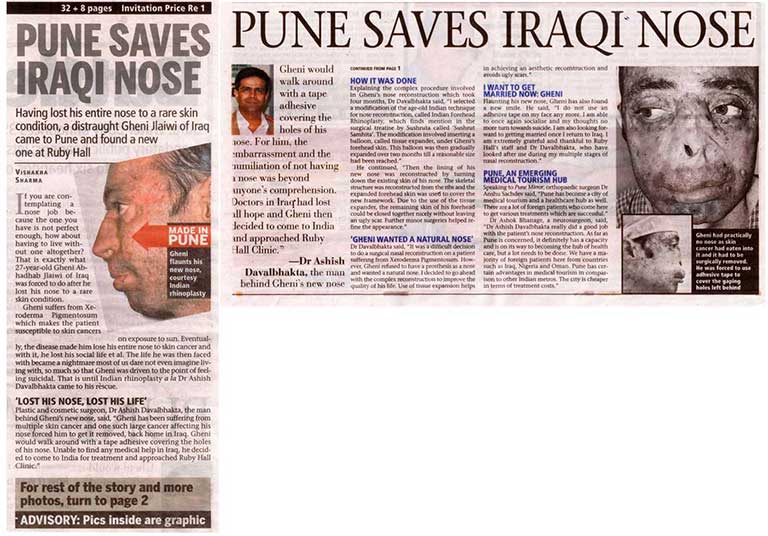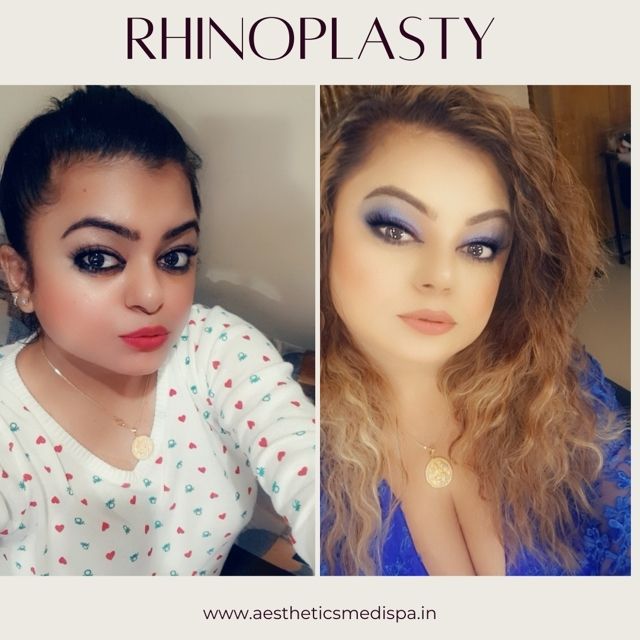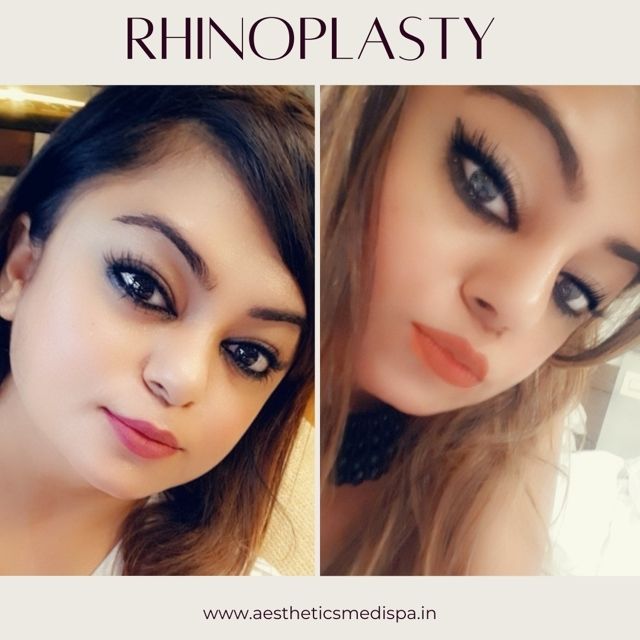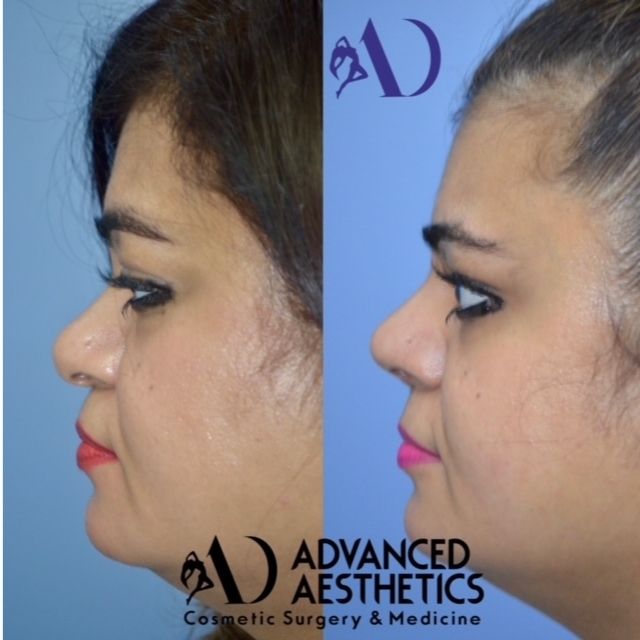 This is an excellent example of how when a feature of your face you didn't like improves, and you start loving yourself and start doing all the things that make you look lovelier. This fiesty young lady came from a far away city to improve her nose shape and breathing. After careful analysis, a rib graft was thought necessary to reshape the thick skin envelope. These are three-month photos she sent me comparing before and after. I thank her for the patience she showed while the swelling settled. It is yet to improve further but she is loving it. A challenging case. I thank her for letting me share her photos.
Case Study - Cleft lip nose deformity Rhinoplasty by Dr. Ashish Davalbhakta
Case Study -  Narrowing a broad indian nose with a hump and deviation by Dr Ashish Davalbhakta
What our patients have to say about Rhinoplasty?​
Rhinoplasty Surgery To Correct Deviated And Flattened Nose
Revision Rhinoplasty(Marathi)
Augmentation And Narrowing rhinoplasty
Rhinoplasty and Chin Augmentation
Cosmetic improvement of the nose: improving definition, narrowing of the nose, tip, and alar base.
Improving definition in a broad Indian Nose using a u graft augmentation by Dr Ashish Davalbhakta
Rhinoplasty Before and After Results
* Disclaimer: Results May Differ From Person to Person. No individual result should be seen as typical
Start here, by making an appointment with Dr. Ashish
Dr. Ashish Davalbhakta (Chief Aesthetics Plastic Surgeon) is available from Mon- Sat for a virtual video consultation or an in-clinic consultation.
If  you have an emergency you can call the clinic at any one of these phone numbers: 9607938924, 9607938925, 9607938922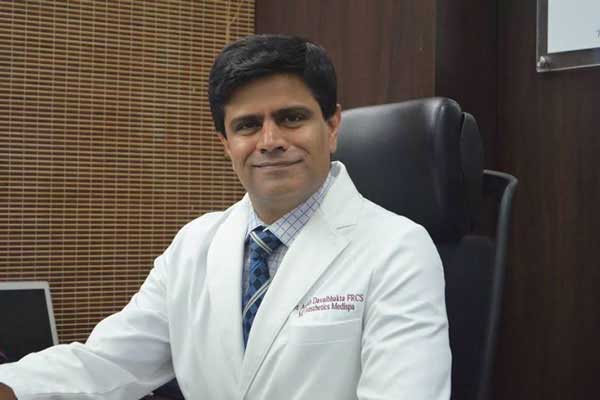 Your consultation includes:
MEET DR. ASHISH DAVALBHAKTA
BOARD CERTIFIED AND INTERNATIONALLY TRAINED PLASTIC SURGEON WITH 25+ YEARS OF EXPERIENCE.
RELATED PROCEDURES AT ADVANCED AESTHETICS
We have transformed the looks of thousands of men and women by providing them with natural looking long-lasting procedure results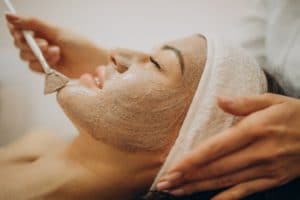 Face
Cosmetic surgery and wellness treatments At Aesthetics Medispa Request Appointment Medicated Facials OVERVIEW Medicated facials or medi-facials are not your regular salon treatments. These medicated
Read More »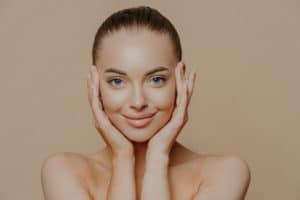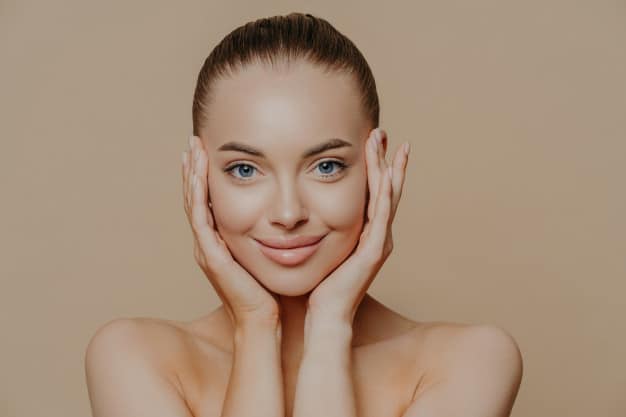 Face
Cosmetic surgery and wellness treatments At Aesthetics Medispa Request Appointment Microblading / Semi Permanent makeup OVERVIEW Semi-Permanent makeup, also known as Microblading or Micropigmentation, is
Read More »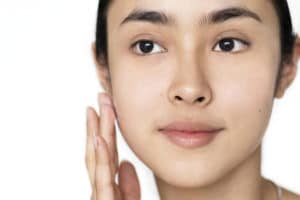 Face
Cosmetic surgery and wellness treatments At Aesthetics Medispa Request Appointment Detanning OVERVIEW Detan skin with variety of treatments at advanced aesthetics and get brighter appearance.
Read More »
YOU MIGHT BE INTERESTED IN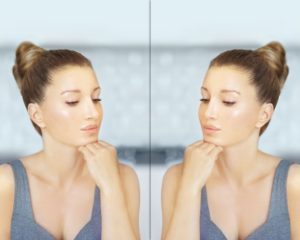 Rhinoplasty
What Is Rhinoplasty? Rhinoplasty surgery or a nose job is a cosmetic surgery procedure used to improve the appearance of the nose. It can be
Read More »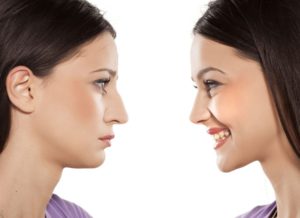 Rhinoplasty
Rhinoplasty (also known as "nose job") is a cosmetic surgical procedure for correcting and reconstructing the nose, improving the functions of the nose, and aesthetically
Read More »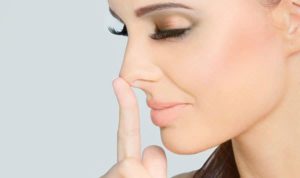 Rhinoplasty
Plastic surgeries, especially rhinoplasty treatments, have been known to go wrong for many reasons. Sometimes it can be because of mistakes made by the surgeon.
Read More »